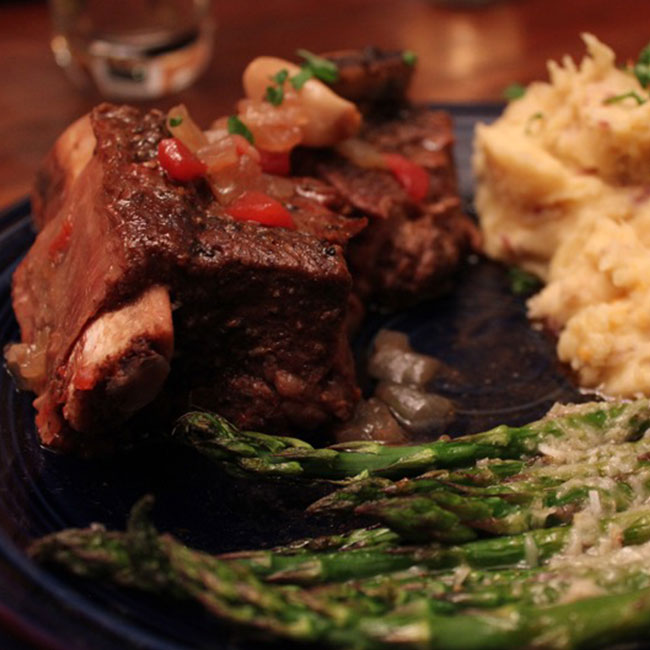 25 Feb

Dutch oven braised short ribs that promise to please
I love Dutch ovens.
Some weeks during the winter it's all I use – from soups, stews and sauces to casseroles and desserts. My favorite function of the Dutch oven is braising. I also enjoy parties and cooking for and with friends, so this post combines my two loves.
When my crew comes over, we usually enjoy libations, music and food, so I don't want to be stuck in the kitchen. This recipe is the perfect balance for cooking a great meal and socializing with friends. It's great for a winter's eve dinner for eight. If you have not done much braising, this is as simple as it gets. Also, don't forget the red wine to keep the cook and guests happy.
Short ribs
4 to 5 lbs. of short ribs
3 tbsp. olive oil
1/4 cup plus 1 tbsp. cracked pepper
3 tbsp. kosher salt
2 medium onions chopped
10 whole garlic cloves peeled
28 oz. can of crushed San Marzano tomatoes
1 cup of a rich, dense red wine
Preheat oven to 300 degrees. Rinse ribs and pat dry. Coat ribs with the pepper and salt; this is going to provide a great crust once seared. Heat oil in a Dutch oven over medium-high. Sear ribs on all sides, working in batches if necessary. Once ribs have a golden brown crust on all sides, remove and set aside. Lower the heat to medium, add onions and sauté for five minutes, scraping up all the brown bits. Add garlic cloves and continue to cook for three minutes.
Add the crushed tomatoes and wine. Simmer for 10 minutes to let the flavors meld. Return ribs to Dutch oven, cover and place in a 300-degree oven for two hours. When a fork is inserted and pulls out clean and easy, the ribs are ready. Allot 2.5 hours for cook time, as the dish can sit and hold in the oven. If you're having a good time and/or are behind on the sides and the ribs are ready, just turn the oven down to 175 degrees.
Mashed potato medley
2 lbs. red potatoes quartered with skin on
1/2 lb. of sweet potato quartered with skin on
1/2 lb. of white or russet potato quartered with skin on
1 stick of unsalted butter
1/2 cup of milk
white pepper and kosher salt
fresh parsley chopped
Mashed potatoes are easy enough; with that said, I've had some pretty bad mashed taters in my time. This recipe is creamy and light if whipped but just as wonderful if you hand mash them (a rustic quality that works well with this meal). While your home starts to fill with the heavenly aroma of red meat braising in red wine, place your quartered potatoes in a large pot and cover with 3 or 4 inches of water.  With 30 minutes left on your rib cooking time, start boiling potatoes. Bring to a boil and boil until soft – not soupy but soft. Drain potatoes, place in mixing bowl, add butter, milk, salt and pepper and start mashing – or whipping, if that's what kind of person you are. Finally, place potatoes back in pot, cover and keep warm on stovetop.
Roasted asparagus
2 bundles of asparagus (a little bigger than a pencil)
1/4 cup of olive oil
1/2 lemon
1/2 cup Parmigiano-Reggiano
While the potatoes are boiling or even before, prep your asparagus by snapping or cutting off the bottom 1/4 inch of each stalk. Place asparagus on a baking sheet in a single layer; I like to line mine with aluminum foil. Drizzle asparagus with olive oil and squeeze lemon over them as well. Right before you drain your potatoes, take out the Dutch oven and bump the heat on oven to 400 degrees. Do not remove cover of Dutch oven; let it sit while you take care of the asparagus. When the oven reaches 400 degrees, place asparagus inside and roast for five minutes. Remove and sprinkle with cheese, roasting for three more minutes. This is the last step so have everything ready so everything is timed accordingly.
Serve
Give each guest one rib nestled against a healthy serving of potatoes and five or six pieces of asparagus. Drizzle some braising juices over the rib and mashed potatoes, as well as a little of the chopped parsley. Serve with your favorite cabernet, and listen to  Nathaniel Rateliff and the Night Sweats.