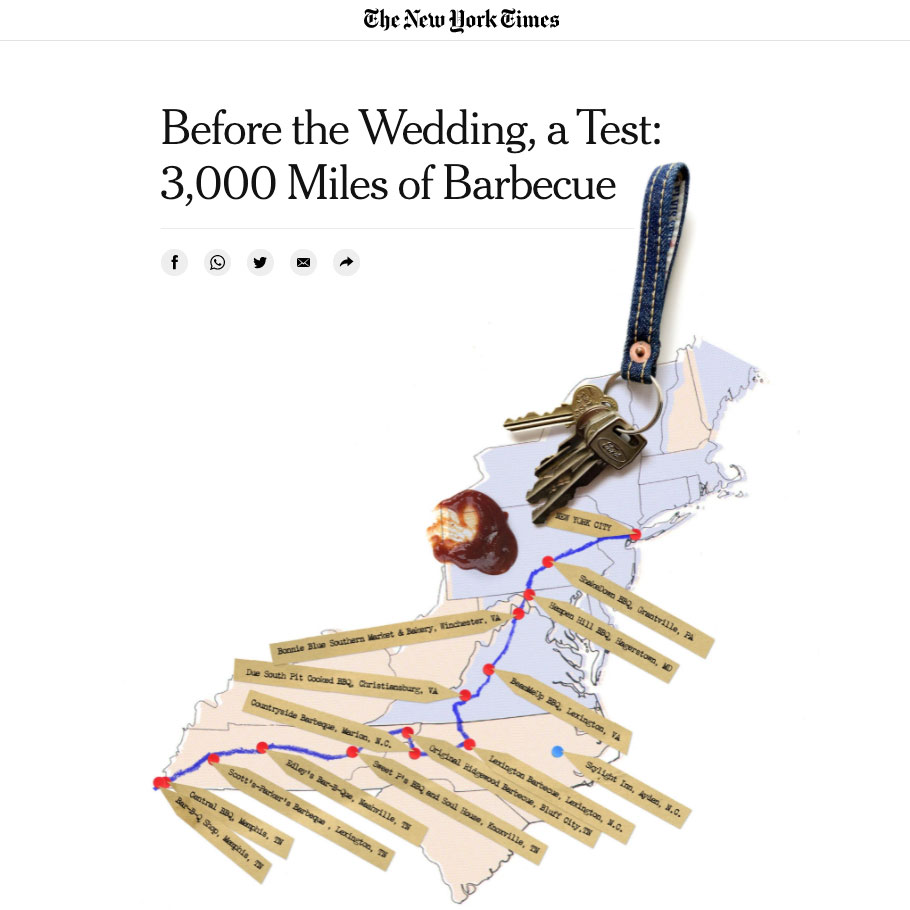 26 Oct

Before the Wedding, a Test: 3,000 Miles of Barbecue

By Brian Nichols
Oct. 26, 2016

We'd drive southwest on Interstate 81, eating barbecue until we hit Memphis. The idea was juvenile in its simplicity, but amid planning a wedding and being a month from turning 30, something juvenile and simple was what I craved.

I am a native New Yorker, in a family of waning Italian heritage, so my opinions on barbecue have been treated as an eccentricity. Was my hot dog no good? Perhaps I'd like a burger instead? To my fiancée, Mary Beth, Virginia-born and North Carolina-raised, I was eccentric only in the wide tent I pitched for smoked meat.

To most anyone from the Piedmont Crescent in North Carolina, barbecue is not a style of cooking; it's a specific dish: chopped pork topped with a spicy vinegar sauce. Zeal for such a noble meal is only appropriate in her eyes. Ribs, however, are not barbecue. Ribs are ribs. Beef is a wholly different dish. And God help those yellow-lipped South Carolinians, with their heathenous mustard-based condiments.

Our first stop would be in the heart of Pennsylvania. Criticism was swift from the left side of the aisle. "That's too far north for good barbecue," Mary Beth's family told me. But that was the point of the trip: to prove that barbecue, though miraculous, is not a miracle of geography. My own family was critical for another reason: why spend vacation days driving all the way to Tennessee, and not just fly to a beach?

Regardless, Mary Beth was (inexplicably) enthusiastic about splitting a 3,000-mile drive with me, so she's clearly the best person I know. The trip felt like a fitting stress test before we would vow to share the rest of our lives with each other.

Outside of Harrisburg, past an overgrown football field, we found ShakeDown BBQ. A huge four-chamber grill on wheels had been wrapping the building in apple wood smoke for hours. I'm a sucker for a wood log fire, but I knew that wouldn't guarantee good food. Behind a small counter was a towering blackboard detailing the owner's newest sandwich creations.

Rules are anathema to road trips, but I felt it important to lay out some guidelines, if only to focus the debate. Guideline No. 1: If the restaurant offered a sampler or combo platter, we should order it. Guideline No. 2: Pork products would be our focus of scrutiny. We expected few joints east of the Mississippi would hazard an attempt at Texas-style brisket. Guideline No. 3: Our highest priority for sides would be beans and greens, the true destiny of those overdone nubs of barbecued meat called burnt ends. Not every restaurant seasons its greens with burnt ends but I imagined that a week of nonstop barbecue, without vegetables, could put us at a legitimate risk for scurvy

We began to deviate from guideline No. 2 on our first stop. ShakeDown's pulled pork was easily overshadowed by a dark beef brisket. But the pork sausage was the obvious breakout: sweet, robust and right at home between two sides of a bun. The platter had been dusted with a chile and spice blend, and the beans were cumin-forward. The meal had a very earthy profile, nontraditional for barbecue, at least from a Southerner's perspective — but perhaps not to the area's German descendants.

And there were sauces aplenty: "Regular" Tennessee sauce; a very "Spicy" variant; a vinegar-based "Carolina"; and a "Creamy Carolina" dipping sauce, seemingly inspired by white coleslaw. More accurate than most tests, the selection of the house sauces, we would find, was the best sign of good barbecue. Shakedown's lineup scratched every itch I had, but my resident Carolinian thought that most of their sauces were approximated facsimiles.

Just over the border in Maryland, in Hagerstown, we stopped at the coyly named Hempen Hill BBQ, a sprawling sports bar crowded with folks looking to cure the munchies. It would be one of the only restaurants on our trip with a wait. The menu tries to do a bit of everything, from Bay-seasoned crab chips (hey, it's Maryland) to smoked prime rib (too large to finish, though we tried). Here, too, the pork sausage (a new menu item, our server told us) outclassed all other offerings: skin crisped from fire, a soft and savory interior, and arresting flavor. But even with three house sauces, an exemplary pork sandwich eluded us.

The following morning, we arrived in Virginia. Down the street from the Museum of the Shenandoah Valley, a lovely collection of galleries and gardens, we found Bonnie Blue Southern Market & Grocery in Winchester. The roadside cafe and bakery is in a renovated auto body garage, with plenty of indoor and outdoor tables, all painted fire engine red. Route 81 hadn't carried us far enough south for the kielbasa not to be a standout: The biscuits and gravy were a tremendous wake-up meal. But now the pulled pork was getting serious: juicy, smoky, a balancing act between salt and spices. The beans practically included a second helping of pork, and the greens, tangy and tender, were the best of the trip.

Spirits high, we turned off to travel a strip of the Blue Ridge Parkway, a treasure in itself. The campsites that service motorcades of picnickers are equipped with public grills, and they would see a lot of use once the leaves turned. At over 5,000 feet, with the air so big and thin, folks would smell your dinner a mile away, and it made me wonder if hospitality is knowing you should expect company. Was barbecue first defined only by its open, inviting aroma? If so, my family's hot dogs and hamburgers might not be off the mark after all. No guest goes hungry in my mother's house.

Driving down the mountain, we stopped at BeamMeUp BBQ, found in a little beige house on the far edge of Lexington, Va. The last rack of ribs walked out the door before we could order, a disappointment but also a good sign. This was the first pulled pork to make Mary Beth give that signature giddy smile. The pulled meat had great texture and, even before sauces, a complex flavor. The brisket, gleaming like a slab of petrified wood, dissolved instantly upon first bite. That texture doesn't come without a robust knowledge of temperature, salt and even humidity. The house's classic "Carolina" sauce was an obvious match for the pork, but the "dark and spicy" sauce ruled the brisket.

Nearer the state border, we were surprised by the South Carolina expats at Due South Pit Cooked BBQ in Christiansburg, Va. The interior was wall-to-wall pig tchotchkes and punny pig shirts for sale — even the bathroom has a framed pig painting. We were aware of the unofficial rule that a barbecue restaurant must have on premises at least one anthropomorphized pig. This was something else.

But Due South was the most committed to sauces of any restaurant on our route, with five bottles at every table: Kansas City "Sweet Brown," Tennessee "Sweet Red," spicy "Hot Red," tangy "Lexington," and their home state's mustard "Yellow." Nearly all of them were delicious (the sweet brown was too heavy with molasses), but the yellow was Due South's prodigal sauce.

Mary Beth, staring down her state's rival, wasn't having any of this mustard stuff. But both sides are guilty of dogmatism: Stephen Colbert, a proud South Carolinian, once suggested that North Carolina's Piedmont vinegar sauce is better employed as a toilet bowl cleaner. I blanketed my brisket in smoky mustard and, yellow lips and all, offered a satisfied grin.

"Well, it's different if you put it on brisket," she argued. So the wedding was still on.

After days of travel, we finally entered Mary Beth's home turf: the Piedmont Crescent. I had been surprised by how many restaurants strained themselves to serve every cut, every sauce, every regional quirk their customers might desire. Lexington Barbecue in Lexington, N.C., is on a different level: The hickory-smoked pork shoulder can be sliced, chopped or coarsely chopped, and a laboratory of condiments ("smokehouse" sauce, Texas Pete, Tabasco …) is on every table. The decades appear to have taught Lexington not to argue the details with barbecue fans.

But the details are what make Lexington so good. The sandwich itself was a high-wire act of sweet, tangy, tender, smoky, spicy, and even crunchy from the slaw. It's a joy as simple as it is complex.

Farther west, into the North Carolina Appalachians, is Countryside Barbeque in Marion. The restaurant usually has a booth available and, if not, there are rocking chairs on the porch for taking in the mountain air. Like the one at Lexington Barbecue, the pork sandwich rules the menu at Countryside. When the neon "RIBS" sign is on, you'll know you're in luck; it's the only item that one-ups the sandwich. While Countryside's meat isn't quite as perfected as Lexington's, its three house sauces are life-changing — in our case, literally.

Years ago, Mary Beth invited me on a trip to the Carolinas and insisted on lunch at Countryside, an old family tradition. She would later tell me, "Only someone who loved you could watch you inhale that rack of ribs and still want to go home with you." Some couples have their song; Countryside's Western Carolina is our sauce. We fell in love to that sauce. Barbecue fans will understand.

Cars are always double-parked around mealtime at the Original Ridgewood Barbecue in Bluff City, Tenn., not easily done at a big restaurant in a small town of about 1,700 residents. The restaurant, run almost entirely by women, serves smoked hams, sliced and then crisped on a griddle in the open kitchen. The house sauce is aggressively sweet without tasting imbalanced. The beans are a must, balanced with onion and celery, a generations-old recipe served in cute brown crocks.

While waiting to pay for our meal at the register, I let out a sigh of satisfaction. "I know that noise," said the very tall man next to me. We stood together and chuckled. That's good barbecue: It's simple, easy to enjoy and it makes us all neighbors.

Near a small marina on the outskirts of Knoxville, we hit Sweet P's BBQ and Soul House. No musicians were playing that day, but the signs and extra bar made it clear the "Soul House" wasn't for kicks. The pork and brisket in the sampler were delicious but the ribs were masterfully laid with flavor, a smack in the face with a "Welcome to Tennessee" sign. Dusted with cracked pepper, large sugar granules and dark paprika, there was no need for sauce — though we tried it anyway. The "Hot," a combination of its "Piedmont" sauce and a chipotle purée, was heaven or heatstroke. I didn't care which. Here we lost guideline No. 3: beans and greens. Mary Beth and I decided instead to cool off with banana pudding. It was so good, we detoured for seconds on our drive back home.

In the car, we marveled at the endless mountains and sang along to our favorite musicians from the region (Gabe Dixon and Delta Rae). The rest of the time we talked barbecue. Comparing joints was difficult. Nearly every spot had some breakout dish, and it turned each new menu into a treasure map: What was going to wow us next?

The most interesting note our conversations found was how some spots, especially in North Carolina, seemed to intentionally serve slightly dry meat, so as to help it absorb a sauce. Indeed, more than a few restaurants seemed to serve a meat just to have something for the sauce to go on. The biggest disappointment was that, despite no small amount of agony over sauces and meats and wood smoke, few restaurants could be bothered to use fresh-baked buns. Not so in Nashville.

There, we visited with Mary Beth's cousin, who pointed us toward Edley's Bar-B-Que on 12 South. Befitting its location in the home of country music, the large renovated garage is done up with warm wood beams and benches, hanging lights and pumping music. Despite such a polished experience and well-rehearsed service, the prices were no higher than the roadside places we'd grown accustomed to.

A rib'wich was offered as the daily special, something I didn't expect to find on this trip, so there went our last surviving guideline: order the combo. There were no regrets.

The buttered bun was plated to the side to showcase two delicately fried pickles atop a chewy pile of burnt ends — an Instagram-ready meal. Mary Beth kept to her pulled pork, which also emphasized those burnt ends.

The cost of managing smoke in an urban area can be huge. In Memphis, Charlie Vergos' Rendezvous is able to operate next to a high-rise, and that's because they serve charbroiled ribs; much less smoke required. If any concession had to be made to my hypothesis about geography, it was that cities and barbecue have an oil-and-water relationship.

Or at least they did. Now, even that barrier has fallen. Martin's Bar-B-Que Joint opened a downtown Nashville event space in August and Sweet P's opened a second location last year in downtown Knoxville. But some of the best barbecue hasn't moved from its original spot.

Scott's-Parker's Barbeque in Lexington, Tenn., didn't look like much but, at that point, we hadn't seen a Lexington we didn't like. A sun-bleached sign out front still showed the 1980 "Coke Is It" slogan. And they still meant it: There was not a sweet tea to be had, but plenty of Pibb Xtra, Mello Yello and other Coke products. Inside is an air-conditioned refuge from the boiling highway, with big flat-screens, wood paneling and plenty of pig-themed knickknacks.

Scott's pigs are smoked whole hog (think of a luau) then minced, sauced, slapped on a bun, and wrapped like any common deli sandwich. Only that wasn't a common deli sandwich; it gave most of North Carolina a run for its money. The ribs, practically a confit, lacked a spicy bark or crust, but were tremendously tender. Even at 9 in the morning, customers were picking up racks of ribs to serve for lunch. But these were not the dry and spicy Memphis ribs I'd heard of. Had we been driving in the wrong direction?

Yet soon there we were on Central Avenue, staring down a blue statue of the University of Memphis's Tom the tiger, which guards Central BBQ. The line was already out the door. Behind the parking lot was a large mural of farm animals playing in a jazz band and inside was wall-to-wall merchandise. Even with the music turned low, the whole joint felt loud. The scant indoor seating filled up quickly, so we ate under a tent rigged with water misters to allay the 100-degree heat. The pork and brisket were great, but the ribs, dry and red as Australia's Simpson Desert, were clearly the best: tug-apart tender with a rolling spiciness.

Across town is the Bar-B-Q Shop. A bar and grill tucked into a mostly residential block on Madison Avenue, it was quiet for lunch but would attract a crowd for dinner. The waiters knew to push their claim to fame: barbecue spaghetti, basically a sweet and meaty pasta Bolognese. Even after a week of solid barbecue, it was still a pleasure to eat, if a guilty one. Like Lexington's chopped pork, Bar-B-Q Shop's ribs were another high-wire act of flavors and textures. Sauce might have been the main draw in the Carolinas, but the Bar-B-Q Shop produces such a perfect rack of meat, sauce is rather unnecessary, almost unwelcome.

It was the end of our trip, but I wanted to keep driving west. To have a grand barbecue road trip that didn't even enter Missouri or Texas … what would people say? It had begun to rain aggressively after we left the Bar-B-Q Shop, but I drove us out to the Memphis Riverfront. Parked in front of the Mississippi, I began to lay out Barbecue Road Trip Part 2 and the idea that maybe we should hit a few spots in Alabama? I mean, the state border is right there.

Mary Beth just smiled at me. I think she knew that after a week of barbecue, I was all talk, and once our last plate of ribs kicked in, I couldn't manage much talking either. We were tired and we were full and all we really wanted to do was go home and get married. So we did.