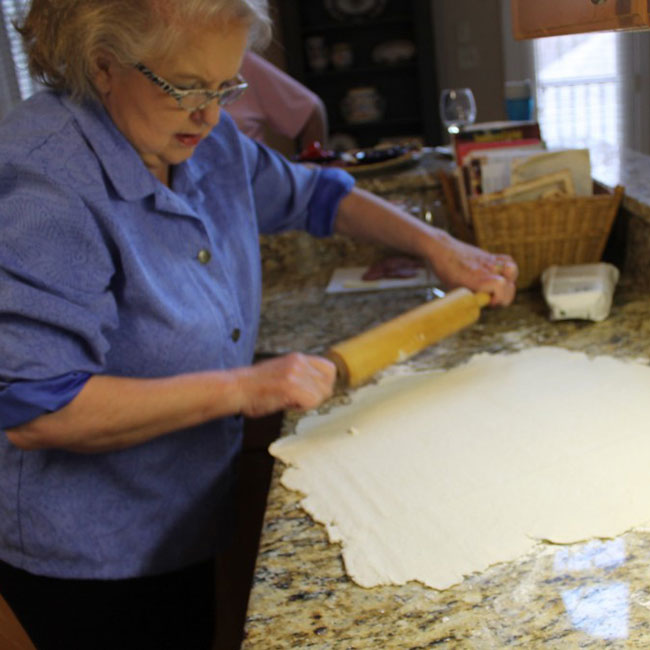 21 Mar

Chicken and dumplings ode to Mom
Cooking with Mom was my on-ramp into this business.
She never owned a restaurant or even worked in the food industry, but she had a home-cooked meal on the table most every night and threw epic parties around her culinary creations. While not born and raised in the South, my mother, Dawn Ford, has now lived in God's country for 45 years and considers herself a de facto Southerner.
The proof? Her chicken and dumplings. The key is the dumpling. It is not a ball. It is not a drop. It is FLAT. This recipe focuses on the dumpling, which is, in my humble opinion, the most important part.
1 5 to 7 lb. roasting hen
4 cups Kitchen Basics chicken broth
1 cup water
3 chicken bouillon cubes
1 can cream of chicken soup
4 cups self-rising flour
½ cup Crisco
1 cup ice water
Remove giblets from chicken and rinse inside and out. Place chicken in large pot with bouillon cubes. Pour in chicken broth and one cup of water. Liquid should come to top of chicken. If not, add a little more water. Bring to boil, turn down heat to medium-low, cover and poach gently for approximately 1.5 hours.
Remove chicken from broth and set aside to cool. Strain broth into a second pot and add cream of chicken soup. When chicken is cool, pull the meat off the bones, shred and set aside.
Work Crisco into flour with two knives or a pastry cutter. Add ice water a little at a time, mixing with fork until dough begins to form. Using your hands, see if the dough will form a ball; if not, add a little more ice water.
Turn out the dough onto floured surface and knead. The more you knead, the firmer the dumplings will be. You cannot overwork this dough. Roll out until very thin, no more than 1/8th of an inch thick. Cut dough into long strips – about an inch to an inch-and-a-half wide.
Cut long strips into 2- to 3-inch pieces.

Bring broth to a boil. Drop dumplings into pot. It will be crowded, but keep putting them into the pot and press down gently with a wooden spoon or spatula. Do not stir. They will all fit. Turn heat down until liquid is gently boiling and cook dumplings for a half hour.
Add shredded chicken, pressing down gently until all of the chicken and dumplings are incorporated (approximately 10 minutes) or until chicken is heated through. The finished product will serve six to eight people and goes great with your favorite green bean recipe.
Pair with a dry semisweet Riesling.